Windows 10 users what would you say about this amazing Control Center
A super-talented Zee-Al-Eid Ahmad Rana developer has created an amazing windows 10 Control Center that comes with pretty much everything that you need. The developer has offered several designs to Microsoft that would change the user's take on the features. While Microsoft doesn't necessarily seem to be in a rush to bring a control center to Windows 10. There are multiple developers that offer Microsoft their designs and ideas but the company has made it clear that the developers in Microsoft are doing pretty well in handling the designs. Don't forget to read Microsoft is preventing multiple PC/Laptops from installing the Latest Windows 10 2004 update.
A Control Center would be supposed to put you in control of essential settings, such as volume level, network, brightness, and other similar things. This is what this concept proposes, as clicking any particular flyout still launches its settings, only that they all come as part of the Control Center overall. So technically, everything's bundled with the Control Center for a unified experience from one end to another.
As the Control Center allows you to customize everything you need to change it is a design that perfectly fits Windows 10 and which relies on Fluent Design with transparency and everything.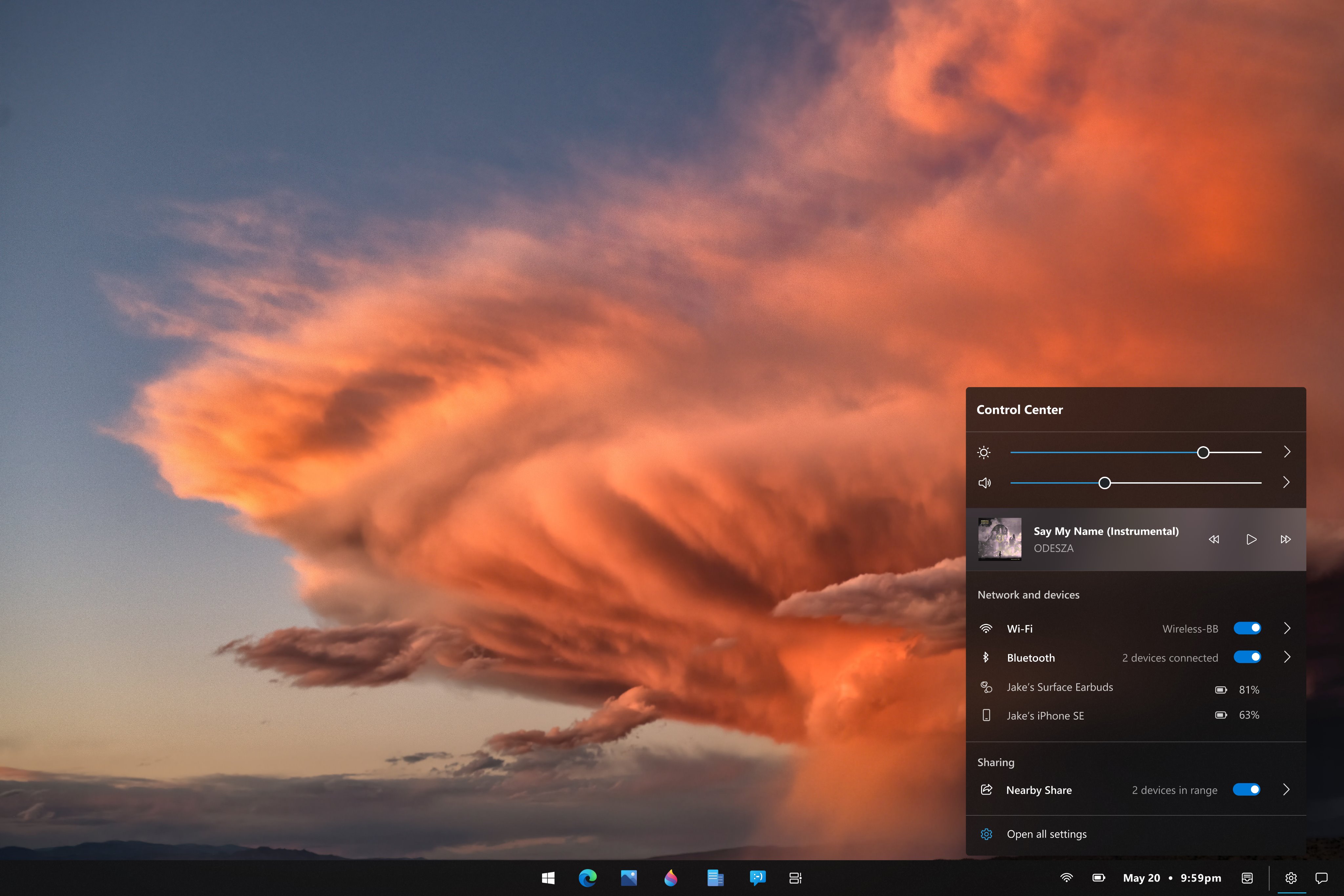 This is the image posted by the developer and as the picture says the name also reflects as All-in-one Control Center. Certainly, Microsoft should at least check out this happen and use some of the ideas, if not the entire concept, as the starting point for the Windows 10 Control Center that everyone needs.
Also, Read The Latest Windows 10 Update 2004 bug can make your PC/Laptop useless
Although, we should not expect the Control Center coming to Windows 10 as the company has launched the 2004 update and has planned for some changes for the Control Center in the next update. The next update may be said as 2009 and let's hope that the update comes with a similar kind of Control Center. Well lastly look at the tweet posted by the developer on twitter below:
The flyouts would still be accessible individually by clicking on their icons on the taskbar, but the flyout would be linked to the control center: pic.twitter.com/aZO61sT52T

— Zee-Al-Eid Ahmad Rana 🎨 (@zeealeid) May 30, 2020
To stay updated on Tech and Cybersecurity news subscribe to our newsletter from here