Esports and AAA Gaming Support Super Asus PC launched with Intel Core i9-10900KF and Nvidia GeForce RTX 2080 Ti
Asus adds a new member to its ROG family with the Asus ROG Strix GT35 model. The PC is powered with the Intel Core i9-10900KF Processor and Nvidia GeForce RTX 2090 Ti. Asus ROG Strix GT35 is a Pre-built Gaming PC that Supports Esports and AAA Gaming.
You Can also opt for your Asus ROG Strix GT35 up to 64 GB RAM and up to 1 TB SSD storage. Unsurprisingly, the Z490 motherboard is from the Asus ROG Strix series and 802.11ax (Wi-Fi 6) network communication is possible with the new desktop PC. There is a huge amount of I/O ports, including five audio jacks, a total of 12 USB ports front and rear of different varieties, and 1x DisplayPort 1.2.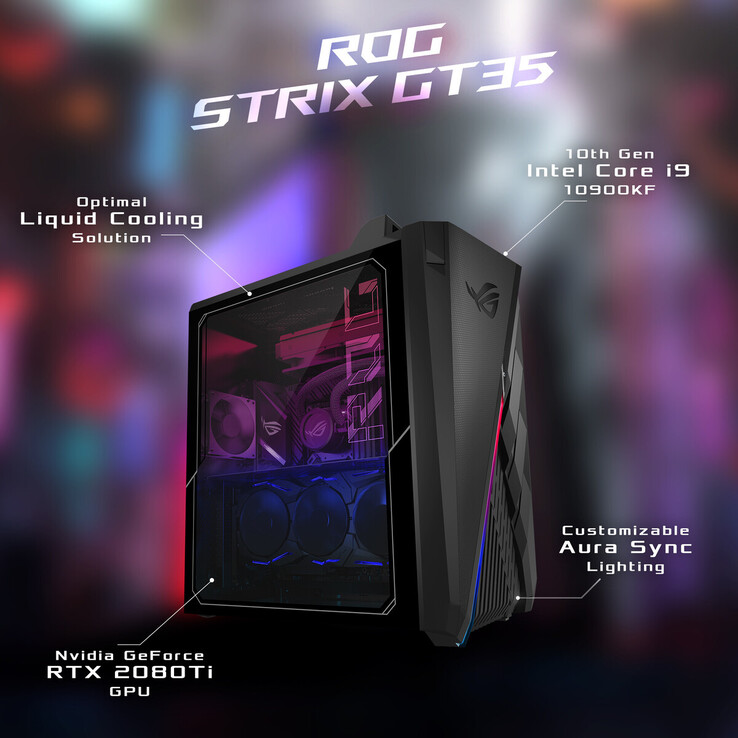 Along with the exciting GPU and CPU, the Asus ROG Strix GT35 also features users with a liquid cooling solution, Keystone II technology, and the ROG Armoury Crate utility. The price of the Intel-based Asus ROG Strix GT35 hasn't been announced yet. However, if you prefer something with an AMD CPU at the heart of the system, Asus also offers the ROG Strix GA35 desktop computer that can be fitted with a GeForce RTX 2080 Ti and a 16-core Ryzen 9 3950X processor.
After looking at all the Specifications of the Asus ROG Strix GT35 users can now say this is the best Asus configuration product ever launched for Esports and AAA Gaming. Users are pretty excited about buying this model and explore it. The launch has not yet been announced by the ASUS. However, Follow Android Rookies for the Future update on ASUS ROG Strix GT35.
[SOURCE: ASUS]