Smartwatch, wearables and GPS maker Garmin shut down services after WastedLocker Ransomware attack
Garmin has temporarily shut down all its services since yesterday due to the alleged WastedLocker ransomware attack. The ransomware forced Garmin to shut down some of its connected services like Garmin Express, Garmin Connect mobile, Garmin Launch, and the Garmin website.
Garmin is the top US-based smartwatches, wearables, and GPS devices manufacturer. It announced the outage of its services through a tweet but did not confirm that it was due to a ransomware attack.
Dear Garmin Users,

Our servers are currently down for maintenance & it may limit the performances of Garmin Connect Mobile & Website, and Garmin Express. We are trying our best to resolve it asap. We seek your kind understanding & apologise for any inconvenience.

Thank You

— Garmin India (@Garmin_India) July 23, 2020
Garmin said that the outage affected all its services and millions of Garmin products users were unable to access the cloud services or sync their smartwatches locally to the app. "This outage also affects our call centers, and we are currently unable to receive any calls, emails, or online chats. We are working to resolve this issue as quickly as possible and apologize for this inconvenience," Garmin says.
A Taiwanese website, iTHome reported that Garmin was hacked into and infected by unknown ransomware. The report says that hackers have managed to encrypt all Garmin serves and databases with the ransomware. The report adds that Garmin officials warned its IT staff that the production line of the Taiwan factory will stop the production line for 2 days.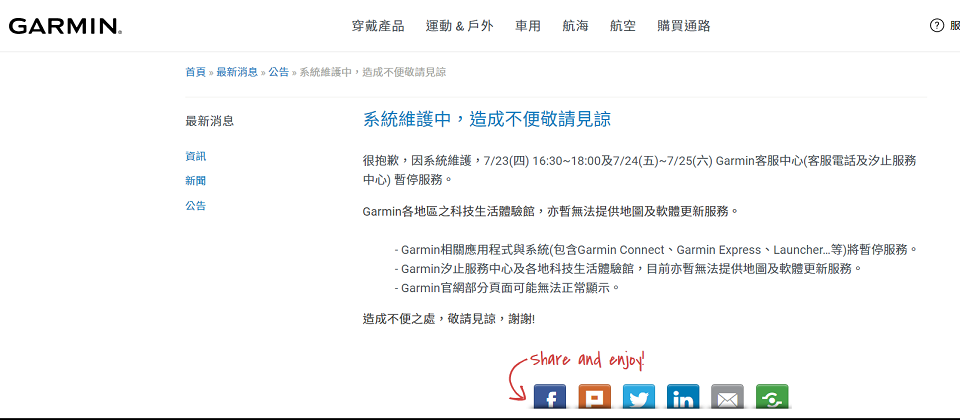 Many online reports and security researchers think that Garmin has been infected with WastedLocker ransomware from the Evil Corp hacking group. WastedLocker ransomware was in news in the first week of July 2020 after it infected a dozen United States-based news websites belonging to a media group.
WastedLocker ransomware uses JavaScript-based SocGholish toolset to deliver malware. It generally infects servers through phishing email claiming to deliver software or system update. Once executed, WastedLockeer ransomware exploits UAC bypass techniques to elevate privileges and encrypt files on the server/system.
Garmin has not confirmed whether it was infected by WastedLocker or any ransomware. The Garmin services are still down and we will have to wait for their official comment.
The company shipped 1.3 million units of smartwatches worldwide in Q1 2020 registering a year-on-year growth of 31.7% over Q1 2019 when it shipped 1 million units, as per International Data Corporation.