Microsoft new patent will bring touch control to non-touch Windows 10 PC/Laptops
No wonder Microsoft could bring in some technology that would make your non-touch Windows 10 display to detect your touch controls. Microsoft has filed a patent in the US that allows touch sensing devices to convert your non-touch Windows 10 laptop into a laptop that detects your touch controls.
The new patent filed by the company is titled "USING AN ALTERNATE INPUT DEVICE AS A MANEUVERABLE EMULATED TOUCH SCREEN DEVICE". According to the company, an input mode trigger is detected so that a computing system treats inputs from a touch sensing device as touch inputs. A focus area input mechanism, which is smaller than a display screen controlled by the computing system, is displayed on the display screen.
A maneuver touch input is detected, and the focus area input mechanism is moved, on the display screen, to a new position based upon the maneuver touch input. Other touch gestures are used to perform operations within the focus area input mechanism.
This means with the help of the touch sensing device, a user can control a focus area input within the operating system. Based on the detected maneuver touch input on the touchpad or similar hardware, the focus area in Windows 10 will be moved to a new position.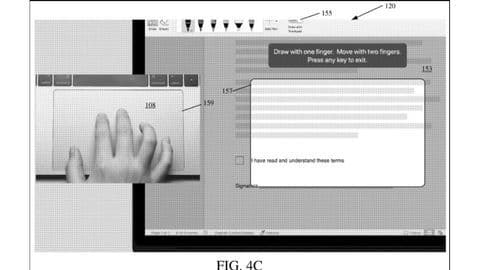 The above image posted in the patent documentation shows that the actions will appear within a smaller part of the display and will be known as "focus area," and this is done when the Windows 10 OS processes external touch inputs. This means the particular area will allow you to perform a range of operations using hand gestures, just like a regular touch screen, and can also be moved to cover all parts of the display interface using a specific touch maneuver.
Bringing this tech on Windows 10 display will include zooming in, zooming out, drawing with one finger, moving around the focus area with two fingers, and swiping down from the top to close an app, among other things. It was also known that the company filed the patent back on 24th January and was published on August 6.
Using this technology you can reuse your old notepads or tablets to make your non-touch Windows 10 PC that detects your touch controls. What are views on this technology patented by Microsoft? Do mention in the comment section below. For more news on tech and cybersecurity stay tuned on Android Rookies by subscribing to our newsletter from here.