Raspberry Pi announces an exciting $50 12.3-Megapixel Camera board with interchangeable lense starting at $25
The Raspberry Pi is a series of small single-board computers developed in the United Kingdom by the Raspberry Pi Foundation to promote the teaching of basic computer science in schools and in developing countries.
The original model became far more popular than anticipated, selling outside its target market for uses such as robotics. It now is widely used even in research projects, such as for weather monitoring because of its low cost and portability. It does not include peripherals (such as keyboards and mice) or cases. However, some accessories have been included in several official and unofficial bundles
In 2013, Raspberry Pi launched its first camera board, built around the OmniVision OV5647 5‑megapixel sensor. Soon after the launch of its 1st unit they launched the original Pi NoIR board. The Original Pi NoIR board is featured with infrared sensitivity and a little magic square of blue plastic. People were also using them for the telescopes and using them to monitor plant health from drones (using the aforementioned little square of plastic).
So after 7 years of its first-ever launch of the camera board, the company has added a new member to its family with the 12.3-megapixel High-Quality Camera at $50, alongside a range of interchangeable lenses starting at $25.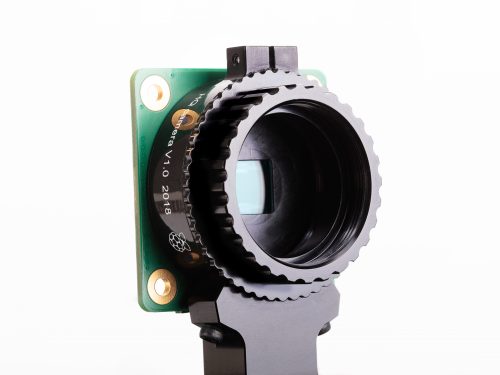 Here are the features of the latest camera board
12.3 megapixel Sony IMX477 sensor
1.55μm × 1.55μm pixel size – double the pixel area of IMX219
Back-illuminated sensor architecture for improved sensitivity
Support for off-the-shelf C- and CS-mount lenses
Integrated back-focus adjustment ring and tripod mount
Applications of Raspberry Pi camera:
Build a smart doorbell with PI camera
Build a Video Streaming Camera
Build a Raspberry Pi Outdoor Security Camera
Build A Face Recognization Smart Lock
Build a Photo Booth Powered by Pi and Pi Camera
There are multiple projects for which we can use the Raspberry Pi camera for some exciting practices. For future updates on Raspberry Pi stay tuned on Android Rookies!!
[Source: "RaspberryPi"]