India vs China: Major army confrontation at the Northern Ladakh region yesterday night as Indian side kills 5 PLA combatants and injures 18
The simmering border conflict between India and China over the Galwan Valley broke into a full-fledged fight between the Indian Army and PLA last night. While the Chinese side martyred 3 Indian soldiers, the Indian side gave an equally befitting reply killing 5 PLA soldiers and injuring at least 18. This was confirmed through a variety of Independent sources.
There was no clear winner in this border skirmish as both sides lost some men. One Indian Army officer and two soldiers were martyred while China suffered 5 casualties and 17 injured. The border skirmish occurred at Galwan Valley which belongs to India but China claims it to be its part.
China has immediately called for a truce after the news of the skirmish broke out. On its part,, the Indian Army issued a statement saying: "Senior military officials of the two sides are currently meeting at the venue to defuse the situation."
The border confrontation between the two sides has been going over a month now after there were reports of PLA soldiers seen entering the Galwan Valley. Those reports prompted the Indian BRO to speed up construction of road projects near the Indo-China border.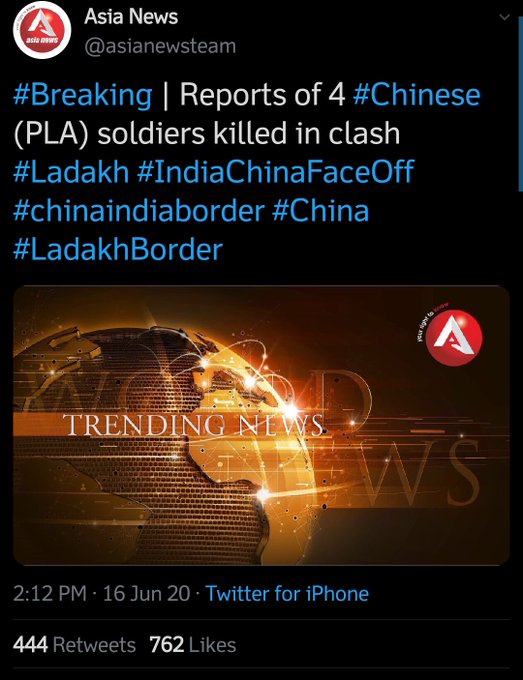 However, this is the first time it broke into a full-frontal assault. Both sides have been seeking to defuse tensions with talks being held to pull back hundreds of troops deployed but no breakthrough had emerged.
China has not yet officially commented on the issue but Indian government sources said that there were no shots fired during the last night's skirmish. Rather, both sides engaged in hand-to-hand combat using batons and throwing stones on each other which resulted in the casualties. The Indian army has also confirmed the border incident saying,
During the de-escalation process underway in the Galwan Valley, a violent face-off took place yesterday night with casualties on both sides. The loss of lives on the Indian side includes an officer and two soldiers. Senior military officials of the two sides are currently meeting at the venue to defuse the situation.

Indian Army statement
The government sources said that an Indian Army colonel was martyred in the incident. Hu Xijin, the editor of the Chinese government's mouthpiece Global Times confirmed the Chinese casualties in a tweet.
The Global Times is published by the People's Daily, the official newspaper of China's ruling Communist Party. China has now pushed for a truce and pull back from the deployed positions as per latest information.