Windows 10 2004 update gets blocked by "This PC can't be upgraded to Windows 10" error, here is what you can do
Microsoft launched its major update of 2020 with May 2020 aka 2004 update on May 27. Many users faced multiple problems that caused automatic restarts, NVIDIA not working, breaking storage spaces and printer ports, and much more. After knowing these issues the company started to block the 2004 update for many users and also bought up a feature that displayed what issues you can face after installing the May 2002 update. However, the company one after another fixed the issues while some are still pending.
Here some users are now facing a new error that displays "This PC can't be upgraded to Windows 10" error while updating from Windows 10 1903 and 1909 to 2004 update. These reports of Windows 10 1903 and 1909 devices being blocked from upgrading to Windows 10 2004 were flooded on the popular forums and official Microsoft Windows 10 forum.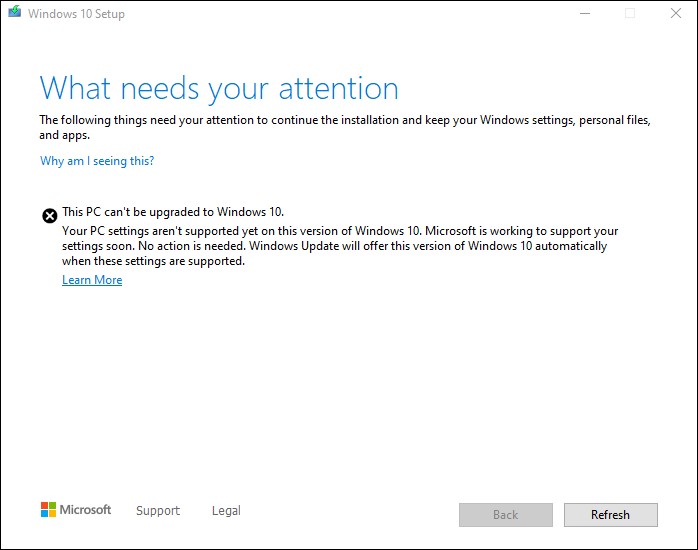 "No action needed," the users are advised. "Windows Update will offer this version of Windows 10 automatically when these settings are supported." Microsoft has not yet released or responded to the error that are faced by these users.
Microsoft software engineer Jennifer Feng replied in one of the report threads as spotted by Techdows, saying that the company does now that some users will receive this message when they're being blocked from updating. "The block is in place because of various compatibility issues with numerous systems and hardware configurations," Feng added.
Users who have received this safeguard hold message were advised by Feng to take the following actions to have the May 2020 Update offered through Windows Update:
Update your hardware drivers
Disable Core Isolation by going to Settings > Windows Security > Open Windows Security > Devie Security > Core isolation details.
Keep checking Windows 10 2004 release information page for mitigations and resolutions for Known issues.
Stay tuned on further updates of Windows 10 issues and updates by subscribing to our newsletter from here.