Amid COVID-19 tensions, China deploys first "robot restaurant complex", an eating complex, solely managed by robots
As every one of you know how Coronavirus outbreak has made our life difficult and paused. While the country with the origin of the outbreak has deployed the world's first Robot restaurant complex and eating complex, solely managed by robots. FOODOM Tianjiang Food Kingdom — located in Foshan's Shunde District, an area hailed as the "cradle of Cantonese cuisine" — is the sixth automated restaurant operated by Qianxi Robot Catering Group.
However, eateries face heightened fears, as customers shy away from dining out in an unknown environment. To tackle this, restaurants are now employing "robots" to manage their food business amid the pandemic. From waiters to chefs, the "robot restaurant complex" in Foshan's Shunde District, serves Chinese fare, hot pot, and fast food, managing business with over 600 customers.
This FOODOM Tianjiang Food Kingdom consists of 40 robots who have learned to cook the traditional Cantonese cuisine that the restaurant is famous for.
Guests arriving at the pink-and-white restaurant make their menu selections with wide-eyed robot waiters. When ready, the food is delivered directly to their table from a Skyrail system or brought in on a tray. Some robots, such as the burger machine, serve customers 24 hours a day.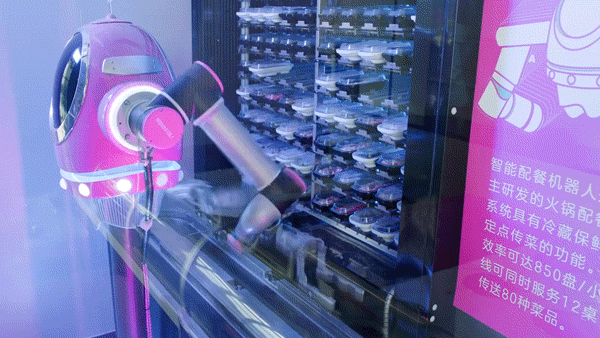 [Image source: Sixth Tone]
"A complete scientific control system and the widespread use of smart equipment reduce the risk of (coronavirus) infection," said Xiao. "This makes it safer and more hygienic."
These 40 pink-and-white robots can successfully cook up to 200 Cantonese dishes which they have learned by imitating the actions of experienced human chefs, according to Xiao Ran, deputy general manager at Qianxi Group, a process which saw a painfully long trial and error phase.
"For a simple-looking dish like chicken broth cabbage, the frying temperature, frying time, the number of times it should be flipped — all of these variables need to be adjusted over the course of more than a thousand attempts," he said.
What do you think about this innovation from China? Do mention your views in the comment section below. For more news on tech and cybersecurity stay tuned on Android Rookies by subscribing to our newsletter from here.