Canon's cloud storage service suffers a Maze ransomware attack, 10TB data allegedly stolen
image.canon is a cloud service designed to ease your imaging workflow, whether you are a professional, enthusiast, or casual user. Connecting your Wi-Fi compatible Canon camera to the image. canon service will allow you to seamlessly upload all your images and movies in their original format and quality and access them from the dedicated app or a web browser – and automatically forward them to your computer, mobile devices, and third party services.
According to Bleeping Computer, ​Canon has suffered a ransomware attack that impacts numerous services, including Canon's email, Microsoft Teams, USA website, and other internal applications.
Canon's IT service has reportedly sent a company-wide notification regarding widespread system issues affecting multiple applications and services. The attack was from the Maze ransomware, who stated that they stole, "10 terabytes of data, private databases, etc," for their attack on Canon.
According to the report, the maze has stolen unencrypted files from servers and backups and has harvested the network of anything of value and gain access to a Windows domain controller. They have also been responsible for other high profile attacks in the past as well, so we will have to wait and see how the situation develops further. However, maze ransomware attackers have denied any role in last week's outage at image.canon.
Probing last week's outage, Canon had found that some photo and video image files saved in the 10GB long-term storage prior to June 16, 2020, 9:00 am (JST) were lost. The image.canon site suffered an outage on July 30th, 2020, and over six days, the site would show status updates until it went back in service yesterday, August 4th. Canon had confirmed that there was no leak of image data.
"Currently, the still image thumbnails of these lost image files can be viewed but not downloaded or transferred. If a user tries to download or transfer a still image thumbnail file, an error message may be received. We are currently exploring technical countermeasures." image. canon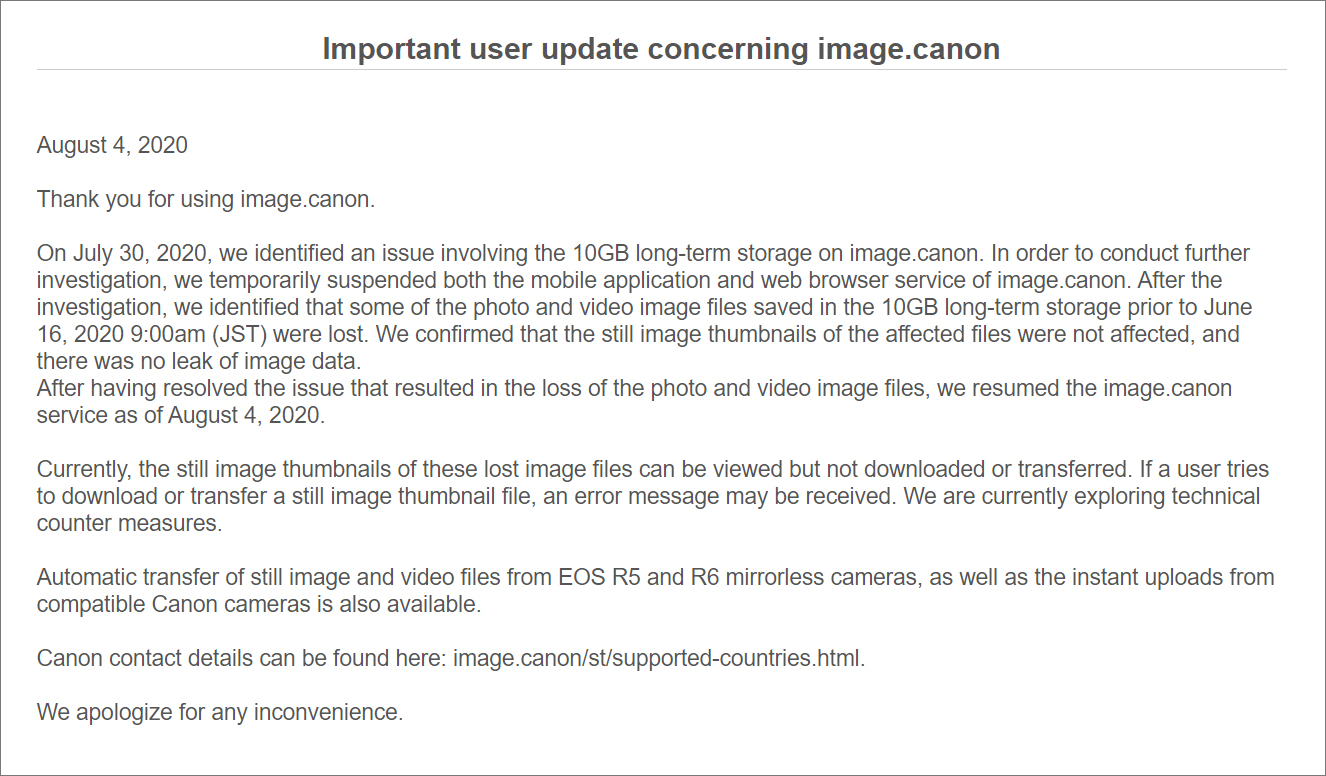 The letter was uploaded on the official website on 4th August that can be viewed from here. For more news on tech and cybersecurity stay tuned on Android Rookies by subscribing to our newsletter from here.